• • • N E C K L A C E S • • •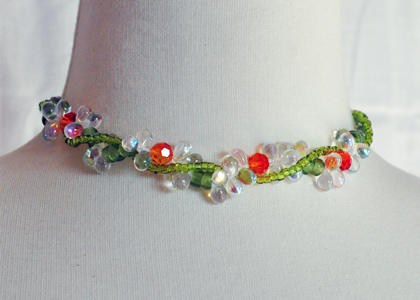 •• s h o r t l e n g t h Short necklaces are 17" and less in length, and they may also be described as collar or choker lengths. They typically rest above or just brushing the collar bone. Many of the pendants I identify in
Cool Finds
are paired with 16" finished chains that showcase the pendant. For short necklaces that can also double as wrap bracelets, I have a separate page: the
"necklets"
(combination of necklace + bracelet). Short necklaces work well with most casual shirts and collared button-down shirts because they are still generally visible under the collar. Deep scoop necks or plunging V-necks may not pair well due to awkward proportions of necklace + neckline; necklaces should look like they belong with an outfit, not abandoned. Thin chains with small pendants or charms can be worn with most anything, which is part of their charm and allure.
•• n e c k l a c e s 1 7 " a n d u n d e r
b e a d e d n e c k l a c e s
p e n d a n t n e c k l a c e s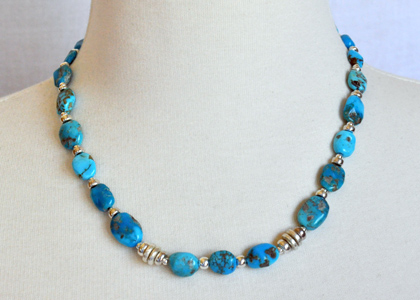 •• m i d l e n g t h Necklace lengths between 18" and 21" are more popular lengths, and this length is often refered to as "princess" length. For most women, this places the necklace comfortably at or slightly below the collar bone; however, this is highly dependent on the wearer's neck size. Petite women may find that a mid-length necklace is too long for the desired look. Likewise, women with larger necks may find an 18" to fit more like a short necklace. If you find a necklace that you like but it seems it might be too long or short for you, contact me; it might be easy and inexpensive to modify for the desired length. Also, a number of the necklaces are made with length flexibility in mind; I add extra chain with a trigger-style clasp so the wearer can adjust the length 1"-2". Mid-length necklaces tend to look their best when not competing with a neckline. I've tried necklaces with standard V-necks with mixed results. They can also get lost when worn with a button-down shirt, depending on the where the shirt is buttoned. Deep scoop necks and V-necks or high necklines like boatnecks or crew necks generally provide the best backdrop for an 18"-21" necklace, beaded or chain.
•• n e c k l a c e s 1 8 " t o 2 1 "
b e a d e d n e c k l a c e s
p e n d a n t n e c k l a c e s
•• l o n g l e n g t h Long necklace lengths are considered as those 22"+, which can be called matinee or opera lengths. Rope necklaces are open-ended necklaces ~30" and longer that may be tied as a longer single length or looped one or times for shorter multistrand appearance. For example, beautiful hand-dyed silk ribbons are sold in lengths of 33"-36" and pairing this ribbon with a great pendant creates the possibility for a long necklace, a choker necklace (doubled-up ribbon), or a many-layer wrap bracelet (though this one can be tougher to tie). Some long necklaces are made from larger size beads and a longer length is needed to balance the proportions of the finished piece, and some are long skinny necklaces that can either channel a dowager duchess or be wrapped many times for a cool bohemian bracelet. They can also be paired with other necklaces to nice effect (see
the tasting menu
for examples!). Long necklaces are all about options.
•• n e c k l a c e s 2 2 " +
•• r o p e n e c k l a c e s 3 0 " +