• • • S O M E T H I N G S P E C I A L • • •
Jewelry can add a dimension of joy and distinction to an outfit, an event, a day that nothing else can. This attachment is seen throughout the ages, and it's a reason I love to make jewelry, because it is special. I recommend items for different kinds of special events, but in truth, I do think what makes jewelry special is the person who loves it, regardless of occasion.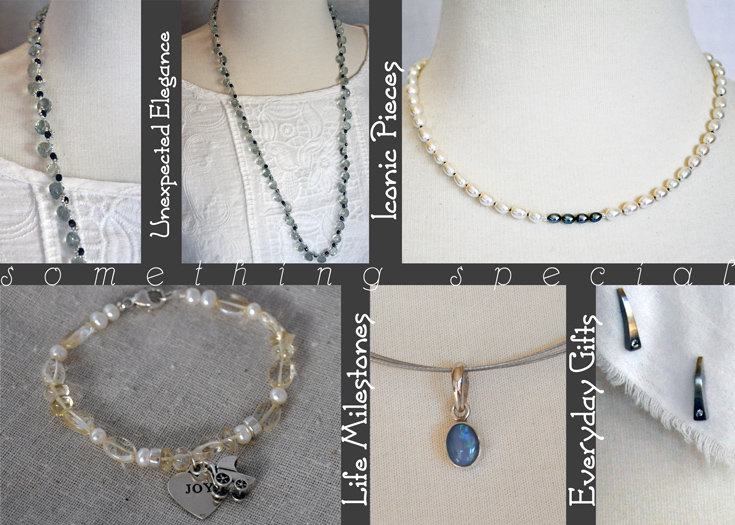 ••
u n e x p e c t e d e l e g a n c e
As a single woman, I never enjoyed wearing a nice dress and "party" shoes as much as I do now, as a mom with two young kids! There is something to be said for stepping out of the everyday world of Cheerios and trains and into something fabulous. The jewelry in this category may not be the usual sparkling solitaire or studs, but they dress up beautifully.
See all designs
••
i c o n i c p i e c e s
Iconic pieces are instantly recognizable as classics: a string of pearls, a strong pendant on a chain, an arc of beautiful briolettes, a string of flashing gemstones. The simplicity of the design merely showcases the beauty of the material.
See all designs
••
e v e r y d a y g i f t s
What makes an everyday gift so special is the serendipity - a bit of loveliness arrives just because! Perhaps it's a birthday, an anniversary or a thank you; it is a present for the moment, out of the ordinary but not over the top.
See all designs
••
l i f e m i l e s t o n e s
T. S. Eliot may have measured his life in coffee spoons, but for most of us, there will be other events like graduations, weddings or births that mark our lives. There may also be events that define our lives by our ability to survive them: overcoming illness or death of a loved one. These items commemorate these special life events.
See all designs