• • • N E C K L E T S • • •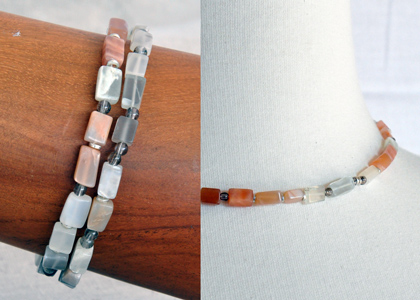 Traditionally, "necklets" refer to tight-fitting necklaces or fur wraps, but I'm using "necklet" as a combination necklace - bracelet to denote a necklace that can be worn as a necklace or wrapped two or more times for a cool bracelet. Most necklets are shorter necklaces (16" or under) that can be wrapped twice for a multistrand 7-8" bracelet. However, there are a couple longer necklaces (21"+) that may be wrapped 3x or more for a relaxed bohemian look. There are also designs made of two bracelets or anklets that may be connected together as a necklace or separately as bracelets. When considering a necklet, it's important to consider your wrist size and a bracelet length that feels comfortable. For example, if a 7" bracelet is comfortable, then necklaces of 14"-16" length should be comfortable and not too loose when wrapped twice. If a 8" bracelet is comfortable, necklaces of 16"-18" should work. I mention this because I assume an average bracelet length (7.5") when listing candidates for double-wrap and multiple-wrap bracelets, and other necklaces in the site may be better suited to your particular wrist size. Last of the multi-use jewelry items are the open, rope length necklaces that feature a stringing material like silk ribbon along with a small pendant. These can be wrapped as many times as needed for a terrific wrap bracelet look.
•• n e c k l e t s : 2 x w r a p
• • w r a p b r a c e l e t s

Many of the
Geek Chic Yes I Koan
and
Geek Chic Spirodoodle
pendant necklaces will function well as wrap bracelets - simply wrap the silk ribbon or cord as many times as needed and secure with a simple tie. The technique works well for leather strips also!