•• w e l c o m e t o t h e g i f t c e n t e r !
Gift ideas are found throughout the website, but this page focuses on integrated packages. When I ship creativity and what I love best, these are the packages I send. They combine images, cards and jewelry as an expression of love and celebration.
Calendar stacks are first, followed by gift packages of stacks and jewelry, then simple and economical jewelry gifts, then themed card packages, and finally a note on gift boxing.
quick links: | gift packages | jewelry gifts | card gifts | gift boxing |
•• c a l e n d a r s t a c k s
As the name implies, a calendar stack is a collection of images and quotes - mostly poetry - for each day of the month. They are approximately 3 1/2" x 3 1/2" square, printed on matte paper with nice weight and silky feel with archival inks. Unless specified otherwise, calendar stacks are packaged by the month.
s t a n d a r d :

Standard stacks include a mix of thoughtful and funny messages, as well as photographs and artwork, for a colorful celebration of creativity. Themed stacks, such as for pregnancy or grief, will also contain a mix of images and quotes, but obviously contents will be different.
m a r r i a g e :

p r e g n a n c y :

g r i e f :

f l o w e r s &nbsp i n&nbsp b l a c k & w h i t e :

•• g i f t p a c k a g e s
Gift packages include combinations of calendar stacks, cards and jewelry for 1 or more months, with options for special themes like new additions to the family (pregnancy or adoption), marriage, grief and loss, retirement and a career change. Each shipment is wrapped and includes a hand written note and gift box for jewelry items (if selected).
•• m o n t h l y s h i p m e n t
A basic $30 USD monthly shipment includes a 1-month calendar stack plus 3 cards, one from each card line (Val's Pals, Had Matter Line, River Stone Designs). You specify the starting month and the duration that you would like the monthly shipments, from 1 to 12 months. Seasonal or related cards will be included in the shipment based on the month.
•• j e w e l r y a d d o n
For an additional charge of $20 USD - $35 USD, you can add a jewelry item to a monthly shipment for a truly lovely package of art to wear &amp share! For $50 USD total monthly shipment, a sterling silver or 14kt gold-fill jewelry item will be included with the calendar stack and cards. You can select necklace or earrings, metal type and the type of charm pendant. A "metal" charm will be the same type as the chain or earwires; a birthstone charm will be a small gemstone bead traditionally associated with the month; and an unusual gemstone charm will be a small hard-to-find gemstone bead or a more common gemstone with an unusual pattern or color. There are the same options for shipment with premium jewelry for total cost of $65 USD monthly, but the style of pendant is more elaborate, such as a faceted gemstone set in sterling silver or a precious gemstones like small sapphire or ruby beads arranged in a pattern. Also, the jewelry add-on doesn't have to be the same duration as the monthly shipments; you can order 3 months of shipments and 1 jewelry add-on; just select a different number of shipments for the add-on.
Basic shipment: $30 USD monthly
Each month, a gift-boxed 30 or 31 day calendar stack and cards will be sent to the gift recipient.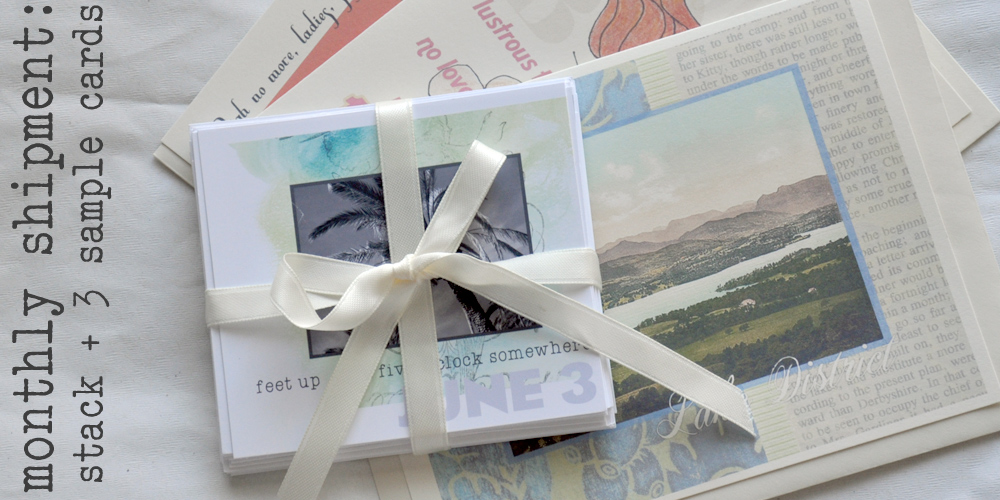 OR: single shipment with multi-month calendar stack from $40 USD
A one-time shipment is sent to the gift recipient containing a gift-boxed calendar stack of 2 to 4 months and cards.
Jewelry add-on: additional $20 USD monthly
A simple jewelry item with small charm or gemstone drop is added to a gift shipment for an additional $20 per shipment.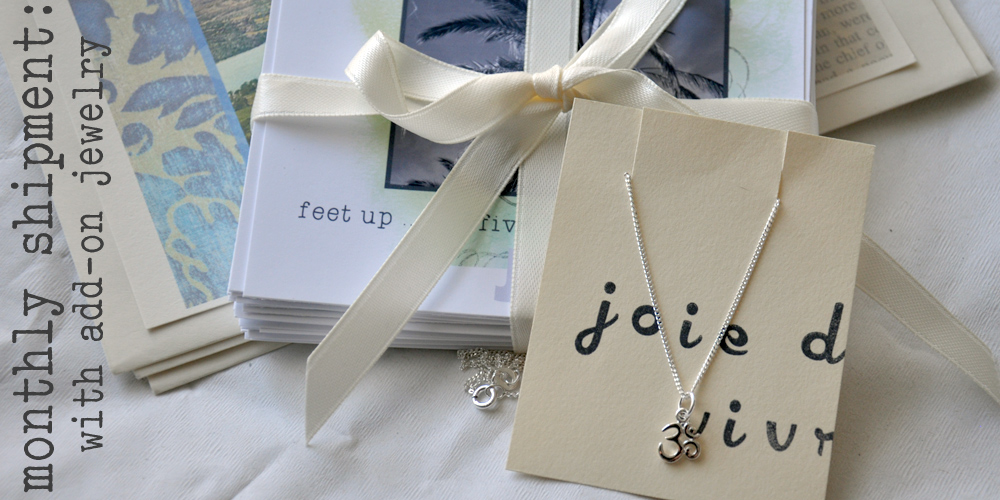 Premium jewelry add-on: additional $35 USD monthly
A larger scale jewelry item emphasizing semi-precious and precious gemstones is added to a gift shipment for an additional $35 per shipment.
P R E G N A N C Y !
Whether this is the first pregnancy or last, simply the act of being pregnant can be both a joy and huge challenge. Currently, the only gift package option is for a short stack (a single 30 day month shipment) with or without a jewelry add-on, but a trimester and full-term gift package option is ongoing. The jewelry add-on is a single shipment with a sterling silver or 14kt gold-fill chain necklace and birthstone charm(s).
Jewelry add-on:
M A R R I A G E
We celebrate the joy and hope in loving unions, and this gift package includes a card with handwritten message and a 30 day calendar stack with an option for a custom stamped keychain or a jewelry add-on with a custom stamped sterling silver or gold-fill charm. Long live love!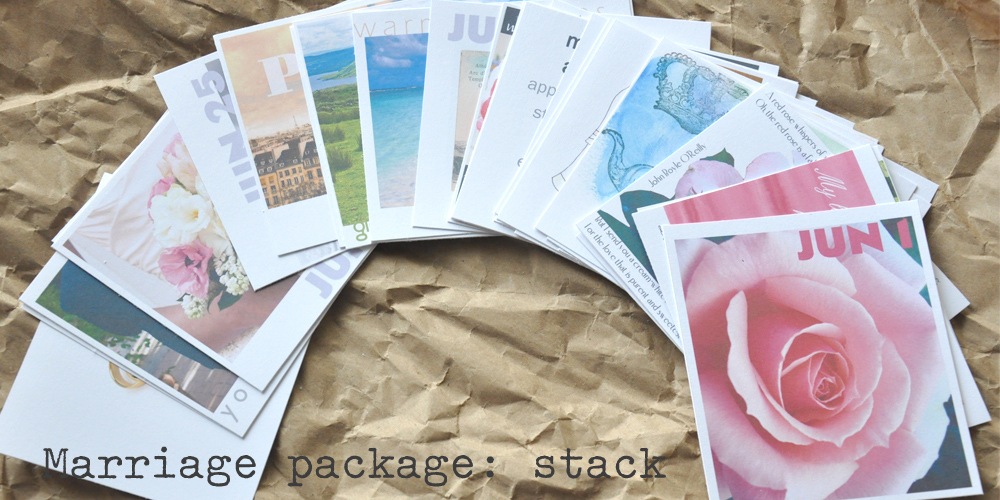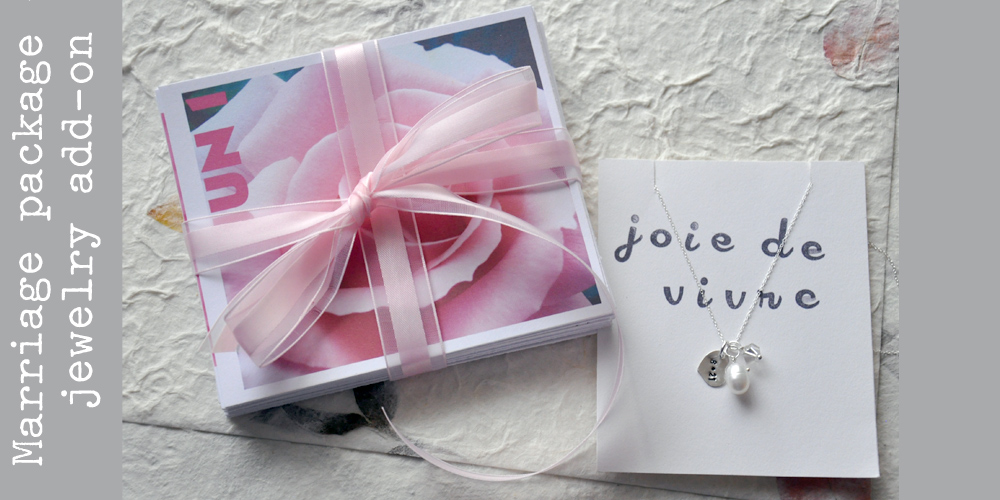 G R I E F
Death is part of our lives, but that doesn't make it less difficult. This gift package includes a sympathy card with handwritten message and a 30 day calendar stack with quotes and images contemplating death and loss. There's an optional jewelry add-on for a jet gemstone pendant necklace; jet was made popular as a gemstone of mourning by Queen Victoria for Prince Albert.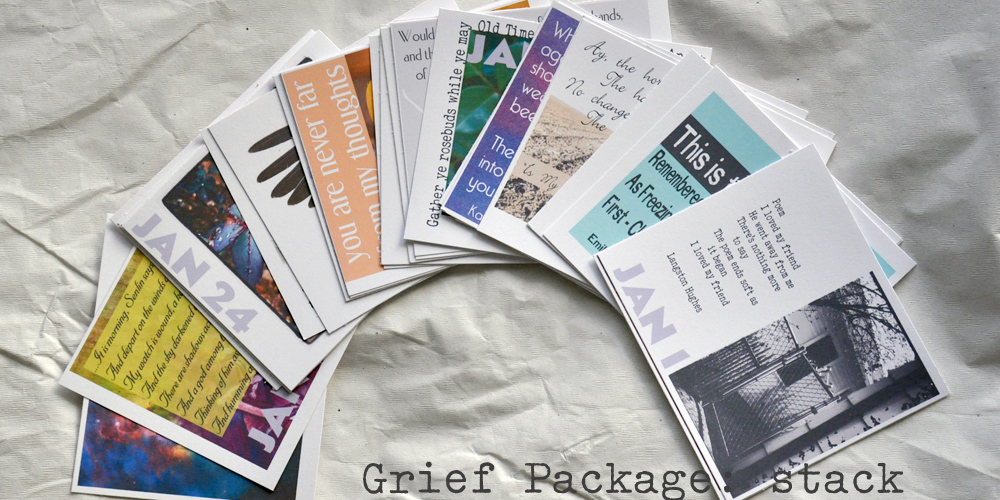 B L A C K & W H I T E F L O W E R S
Classic black and white photos featuring flowers and other natural flora never lose meaning or potency as a way to express care and thankfulness toward the recipient. This stack can be used for birthdays, bereavement, or anything in between.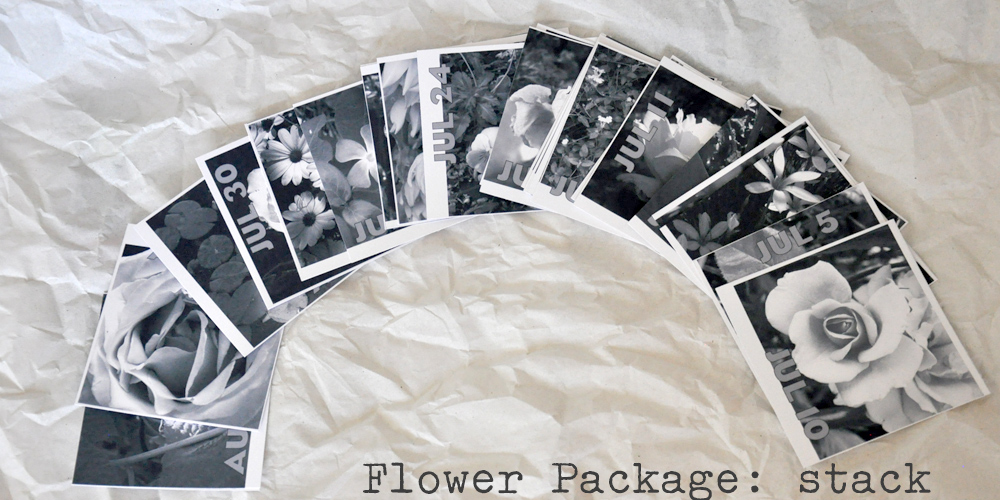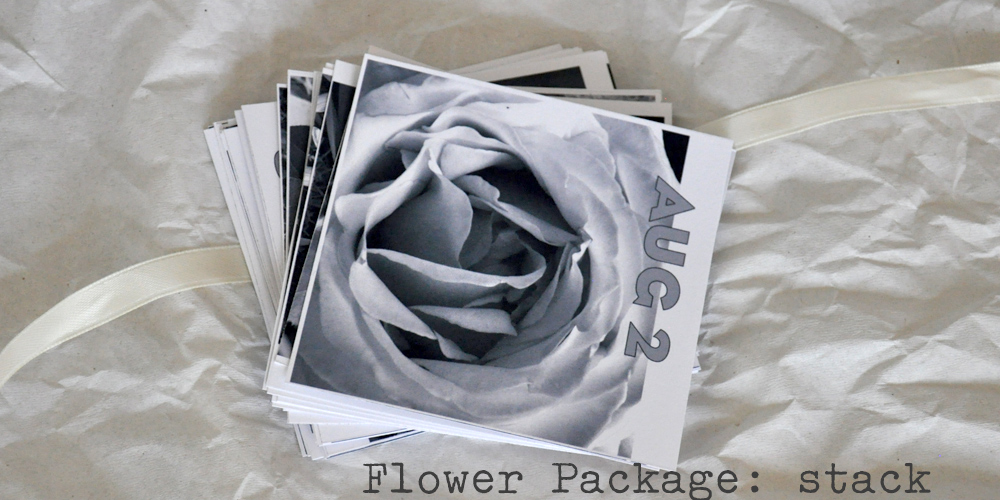 •• j e w e l r y g i f t s
Any Joie de Vivre jewelry item can be a gift, and the
Something Special
categories have a variety of gift items, but I wanted a couple pages specifically for simple charm or pendant necklaces and earrings in sterling silver and 14kt gold-fill for easy and economical gift ideas.
20 Under 30
shows twenty jewelry items under $30 USD (including gift wrapping and free shipping!) Styles include silver charms, vermeil and bronze charms, unique handcrafted pewter and even an astromech droid or two.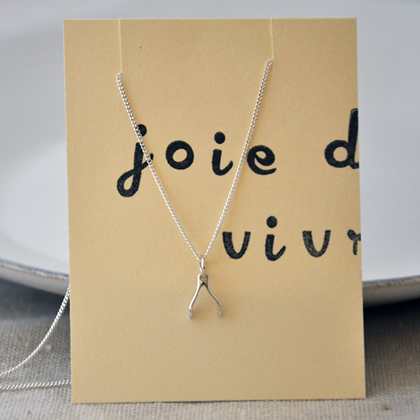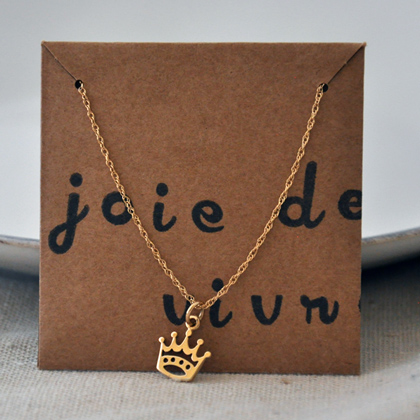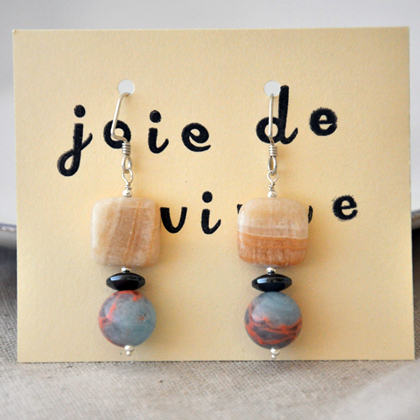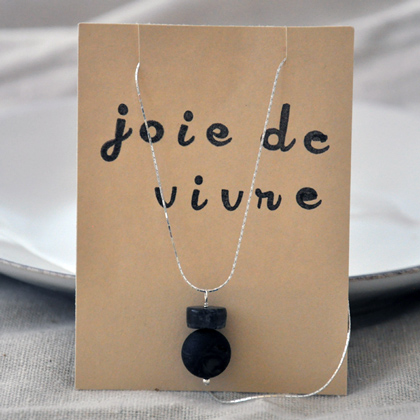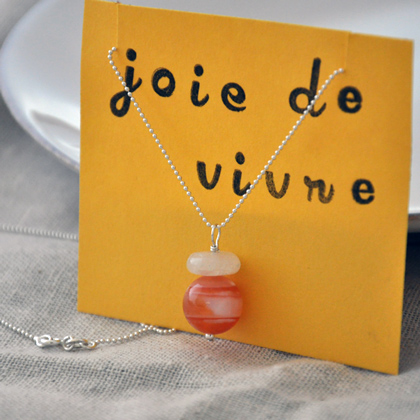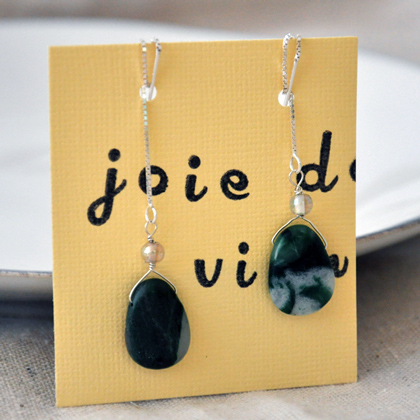 Sub 60 shows jewelry items $60 USD and under (also including gift wrapping and free shipping) which tend to have larger and more complex pendants and include gemstones like amethyst, peridot, garnet and other semi-precious stones. Most gemstones are set in and paired with sterling silver.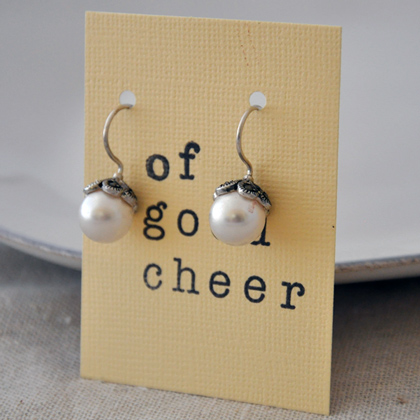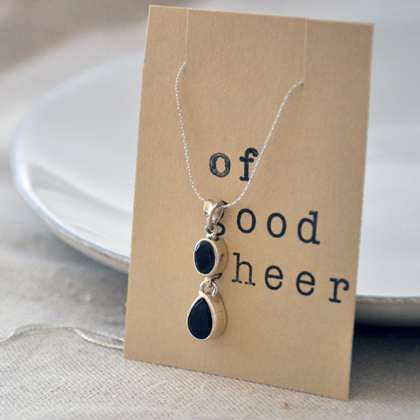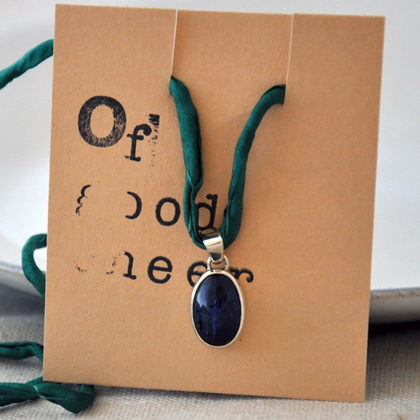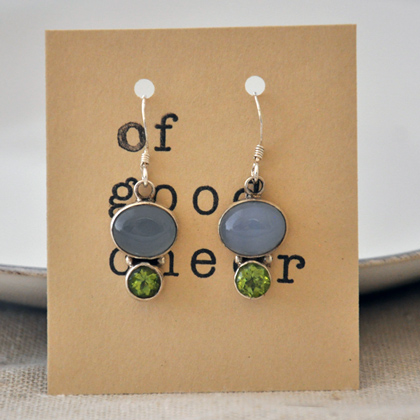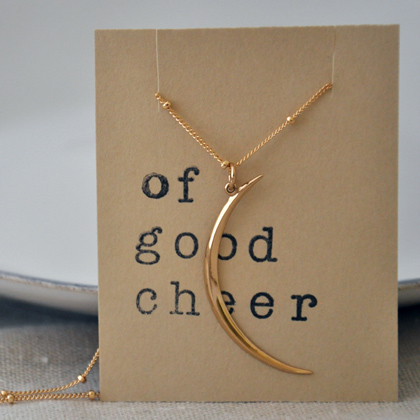 Jewelry Subscription
There's also a
Joie de Vivre subscription
for perennial jewelry shipments in spring, fall and a date of your choosing.
•• c a r d g i f t s
Good intentions aside, how many of us are stocked with sufficient cards? Kids birthday party? Death of a loved one in your circle of friends? Parent's anniversary? Share a practical gift of cards for all occasions. Perhaps you know someone like Mr. Glass (Curious George) who appreciates the unique and would enjoy a gift of cards found no where else. Or maybe you'd simply like to send something a little different this year - a card gift rather than a gift card.
With this in mind, I organized some card gifts outside the sampler packs offered on each product line page (sampler packs are combinations of 12 cards within one of the card lines -
Val's Pals
,
Had Matter Line
,
River Stone Designs
- for $36 USD). Cards are printed with archival inks on heavy cardstock paper and include matching envelopes.
Alternatively, I created some themed card packages that make excellent gifts! See
themed card packages
for a more thorough description and complete list.
Cover the Bases: The goal of this card package is to prevent a last minute rush to the drug store because there wasn't a good card to be found in the house! It includes 1 illness/get well soon card, 1 sympathy/grief card, 3 birthday cards (2 humorous, 1 serious), 2 thank you cards, 4 congratulations cards (1 marriage, 1 new baby/addition, 1 new home/moving, 1 graduation) and 1 anniversary card for 12 cards total.


Circle of Friends: This package is designed to share with your peeps: 4 birthday cards (humorous) and 8 friendly greetings for 12 cards total.


Lovely Literary: This package of 16 cards contains designs inspired by calendar stack dailies featuring famous figures in early literature, from Shakespeare and Basho to Jane Austen and Emily Dickinson. A great gift for lovers of the written word.


Scientific Method Spectacular: This package of 16 cards celebrates great achievements in scientific discovery and understanding, from a sun-centered solar system to photosynthesis to penicillin. Card includes front design and inner description of the scientist and the theory. Perfect for your favorite scientist or fan of STEM.


Take a Hike: This package contains 16 cards with designs from the Works Projects Administration poster collection featuring our national parks. The designs were created between 1936 and 1943 to publicize exhibits and community programs. A popular gift for outdoor enthusiasts.


The Artists' Eye: You might be familiar with Georgia O'Keeffe and John Singer Sargent as famous American painters, but what about Cecilia Beaux or William Merritt Chase? This package of 16 cards showcases works by American artists, from the country's early days to the 20th century. Card includes front design and inner description of the artist and the paintings. A delightful gift for an artist or art lover.


Egyptian Wisdom: "The nut doesn't reveal the tree it contains." In addition to honoring gods and pharohs, Egyptian hieroglyphics speak of daily life, including a number of proverbs inscribed at Luxor and other sites that remain pertinent today. This 16 card package is great for an ancient Egyptian buff or history lover.
Card Subscription
There's also a
Joie de Vivre subscription with cards
for a perennial gift of cards and jewelry, sampling all the product lines in a single annual shipment.
•• g i f t b o x i n g
The gifts on this page
do not
require purchase of a gift box; they will be packaged and sent to the recipient listed under the "Gift Recipient" field free of charge. Gift packages described above with cards and calendar stacks are sent in cardboard boxes, jewelry gifts on the
20 Under 30
and
Sub 60
pages are gift wrapped in natural cotton bags, and card gifts are tied in ribbon and wrapped in tissue.
Gift boxing is available for other items on the website by purchasing a gift box for each recipient and entering the recipient's name to each item added to the PayPal cart, enabling multiple gift recipients for each order. See the
gift box instructions
for ordering information.
t o p o f p a g e