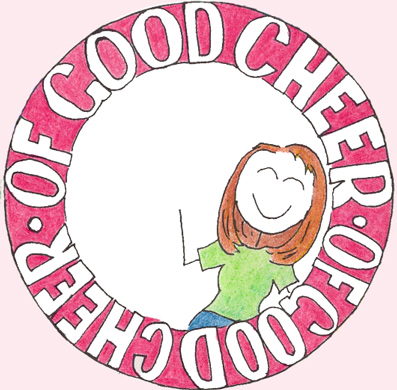 The following are common questions concerning OF GOOD CHEER's products and policies. If your question is not listed below, or not answered to your satisfaction, please
contact me
.
Does free shipping apply to jewelry purchases as well as card orders?
Yes. Standard shipping via USPS is free for all orders. Most orders will be shipped Priority Mail. Bulk orders exceeding size or weight requirements may be shipped via other carriers. "Bulk orders" are classified as either 100+ cards and/or 20+ jewelry items.
Can I combine personal and gift items in the same order? Does free shipping still apply?
Yes, with caveats. If your order combines personal and gift items, please specify the intended recipient in the "Gift Recipient Name" field before you add an item to your cart. You can specify multiple items for each recipient, and to finish the order, add a
gift box
for each recipient other than yourself. There is a small charge for each gift box that covers the additional shipping and packing costs for multiple shipments per order. If international or special shipping is required, I may contact you for different options.
Can I change or cancel my annual subscription?
Of course. If you would like to maintain your subscription, but you would like to change the restrictions and/or recipient, please
contact me
with the desired changes. If you would like to cancel your subscription, please visit the
subscription
page and cancel your current subscription via the "Unsubscribe" button.
How soon will my package arrive?
Delivery times for card orders are generally 5-7 business days, with 2-3 days for processing and 3-4 days for delivery. Delivery times for jewelry are generally 7-10 business days, with 3-5 days for processing and 3-4 days for delivery. An email confirmation will be sent when the order is shipped, and if a delay occurs, email notification will be sent with an option to cancel the order if I'm unable to meet your desired delivery date.
Can I return a piece of jewelry or cards that I don't like?
Yes. I want you to be happy with your purchase, and if an item does not meet your expectations in style, color or quality, I'm happy to offer a full refund for items returned in their original condition within 60 days of purchase. For card and jewelry items showing wear, a refund in the form of store credit will be given. Of Good Cheer retains the discretion for evaluating the condition of returned merchandise. Full refunds will be credited within 3 days of receiving the merchandise. Store credit may be used up to a year from the return date; to redeem store credit, please contact me.
What's the time limit for returning a piece of broken jewelry?
If the stringing material or clasp of a jewelry product breaks within the first year from the purchase date, return the jewelry to Of Good Cheer and repairs will be provided free of charge. After the first year from the purchase date, jewelry will be repaired but a $20/hour restringing fee applies. To determine the repair cost,
contact me
and an estimate will be provided.
Will I be charged sales tax?
If the billing address is in the state of Arizona, sales tax will be applied to the order.
Does Of Good Cheer offer bulk order discounts?
Yes, but it is not available through the web site. If you would like to place an order of 100+ cards and/or 20+ jewelry items or you would be interested in carrying Of Good Cheer cards and/or jewelry products in your retail store, please
contact me
for availability and pricing.
Is my personal information secure?
Yes. Of Good Cheer will never share any information gathered by the web site or PayPal with a third party. I'm a firm believer in protecting our customers' privacy. Please visit www.paypal.com for the security and privacy policy for processing online credit orders.
Do you have a catalog?
Strictly speaking, no. I release mailers from time to time. If you would like to be on the mailing list, please let me know.
Are you always cheery?
No, but I love making jewelry and cards so this business puts me in a pretty good mood.