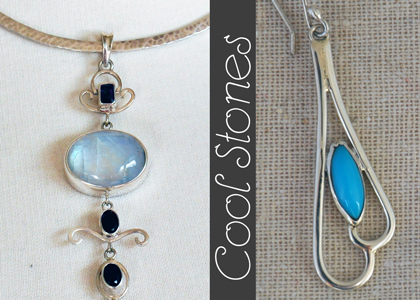 •• c o o l s t o n e s
My favorite supplier for gemstone pendants is SilverRocks, a vendor I found over ten years ago at the Tucson gem show. Over the years, I've selected numerous pendants and earrings and they are always a joy to use. The craftsmanship is excellent, and the price remains very reasonable within the market. Special Concept is a recent vendor, and I love the mixture of gemstones and pearls with smooth silver geometric shapes and lines. The open organic shapes of the earrings from Elysium caught my eye and the feel and balance of the earrings are terrific. They are not small, but they are comfortable and lovely to wear. •• d e s i g n s w i t h s t o n e s s i l v e r r o c k s
SilverRocks has been designing and crafting distinctive sterling silver jewelry inset with high quality gemstones for over 20 years. The jewelry designer works with Balinese metalsmiths to design and create small batches of jewelry items from the beautiful, genuine, high quality gemstones collected on his travels throughout the world.
s p e c i a l c o n c e p t
Special Concept started in 1997 as a talented jewelry designer selling his unique square ring designs to visitors to Fisherman's Wharf. His designs were popular in the Bay area, and after opening a number of stores, the company expanded operations and now offers their angular and organic designs inset with pearls and gemstones at the top shows in the nation and beyond.
e l y s i u m
Elysium Inc has been specializing in high quality Mexican hand-crafted sterling silver jewelry items since its start in 1985. The company works closely with the silversmiths - often small, family owned workshops - to create a terrific array of earrings, bracelets and necklaces.
m a r c a s i t e
Marcasite isn't the name of a company or artisan; it's the name of the tiny faceted gemstones inset in these outstanding sterling silver designs. These designs were collected from various jewelry suppliers over time and they never fail to please.
o t h e r c o o l f i n d s