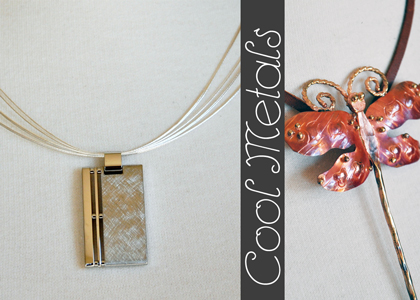 •• c o o l m e t a l s
Finding cool metal pendants and charms is the easy part; selecting which ones to try and which to leave at the table is tough! There are many wonderful vendors with outstanding products: Patricia Healey and The Lipstick Ranch putting the stamp on patina copper and wrought iron, respectively; Jess Imports and Nina Designs offering lovely cast bronze and satin smooth vermeil charms; Green Girl Studios cooking up amazing pewter beads, charms and buttons literally in their basement; Elysium showcasing swooping sterling silver designs; plus many more. If you like items you see here, I encourage you to shop yourself - no really! These are great businesses and most have a retail website themselves or work closely with other vendors to make their products available to the public. •• d e s i g n s w i t h m e t a l s t a i n l e s s s t e e l
These stainless steel pendants come from a number of jewelry suppliers, but one trait they all share is sleek modern style.
p a t r i c i a h e a l e y
Patricia Healey easily has one of the most interesting booths at the gem show. Her copper creations gleam under the lights - new designs! new ways to use past components! - and she and her staff have good energy; a positive, happy vibe is simply there around the booth. Her charming patina copper designs are all hand-crafted.
e l y s i u m
Elysium Inc has been specializing in high quality Mexican hand-crafted sterling silver jewelry items since its start in 1985. The company works closely with the silversmiths - often small, family owned workshops - to create a terrific array of earrings, bracelets and necklaces.
h i l l t r i b e s i l v e r
Hill Tribe silver refers to fine quality silver items (99% pure silver) from the Karen Hill Tribes in Thailand. The higher silver content means it tarnishes more quickly and easily than sterling silver or other silver alloys, but simple cleaning keeps components as good as new.
n i n a d e s i g n s
Nina Designs has been creating high quality metal jewelry components for the past 25 years, and their quality is rooted in fair trade practices with metalsmiths in Bali and Thailand; the company gets consistently excellent worksmanship because they pay a good wage. The sterling silver, bronze and 24kt gold-plated bronze components speak for themselves: imaginative designs of great quality at a reasonable cost.
g r e e n g i r l s t u d i o s
Green Girl Studios is a company in Asheville, NC that creates some of the most imaginative and creative pewter components I've seen in 10+ years of shopping jewelry components. They do all the work in-house, from molds to casting to finishing, and dedicated craftmanship shows.
o t h e r c o o l f i n d s