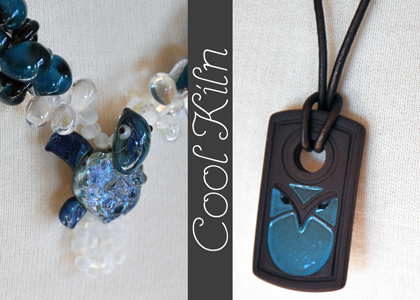 •• c o o l g l a s s & c e r a m i c s
The common element between glass and ceramic jewelry components is high heat in a kiln or other uniform heat source. Glass is an amorphous silicate in structure while ceramics are made of clay, which is usually comprised of a handful of different minerals in a more consistent structure. The glass shown here is usually lampwork glass, where an artisan works with a torch and molten glass to create small sculptures. Ceramic pieces are also sculpted through carving, firing and painting the clay. Unicorne Beads is one of my favorite suppliers for lampwork glass beads and pendants. Their use of color and dichroic glass create unique, beautiful pieces that are durable and a treasure to own. Grace Lampwork Beads also creates small bead masterpieces, many with whimsical colors and shapes. Over the years, I've found a variety of lovely porcelain beads and charming ceramic pendants. •• d e s i g n s w i t h g l a s s l a m p w o r k g l a s s
These lampwork glass pendants come from a number of jewelry suppliers and show a variety of styles from this versatile medium.
u n i c o r n e b e a d s
Unicorne Beads is company in southern California that has been creating hand-crafted glass treasures for over 40 years, including dozens of bead styles distributed across the world. Beads are individually designed and made by highly skilled glassblowers.