•• p i n o t n o i r
Like cabarnet sauvignon, pinot noir has an earthy flavor though more subdued so that other flavors are noticeable, like fruit flavors of cherry and strawberry or vanilla. Pinot noir is the palest red wine and light and easy on the tongue. It pairs well with a variety of foods, from salmon to creamy cheese dishes to chicken and pork. It is the grape of the Burgundy region and good pinot noir is among the most prized wines. The necklace pairs featured here contain at least one piece that is pinot noir-like: lovely in color and feel with subtle style and fun.
•• f a m i l y a r a u c a r i a c e a e + p r e c i o u s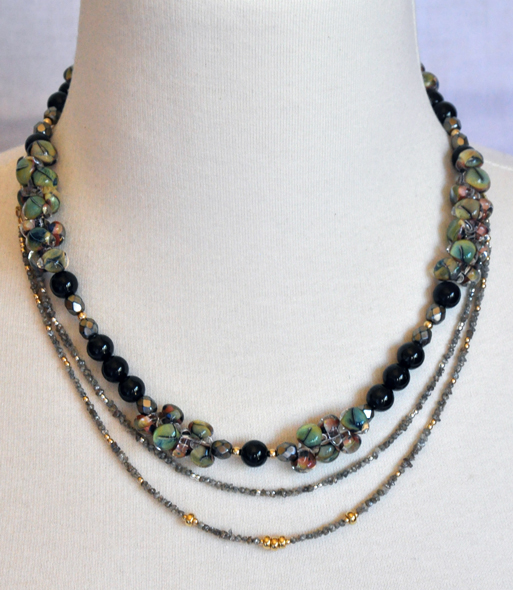 This pairing shows carbon in two forms: the jet beads in
Family Araucariaceae
are a "soft" form (coal) and the diamond chips in
Precious
are a "hard" form. Handcrafted lampwork glass beads make a fine complement to the lustrous jet beads, and the contrast between smooth and rough of the two necklaces adds nice interest. Family Araucariaceae: $124.00 USD
Precious (silver): $157.00 USD
Precious (gold-fill): $155.00 USD
•• c o f f e e + d u s k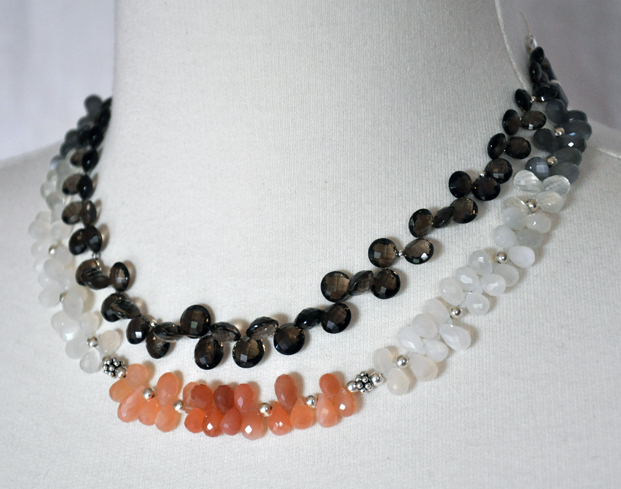 The colors of early evening are on display in this pairing with lovely and unusual checkerboard cut circular smoky quartz gemstones in
Coffee
and the soft ombre of cut moonstone gemstones in
Dusk
. Coffee: $192.00 USD
Dusk: $148.00 USD
•• f i s h o u t o f w a t e r + g o n e f i s h i n g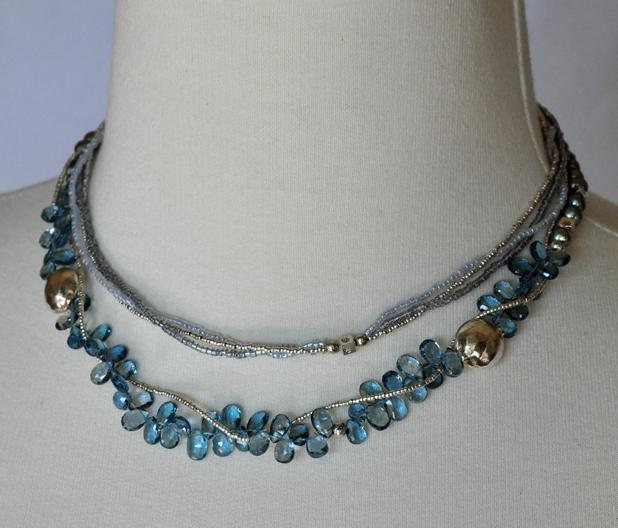 There's no surprise that the brilliant London blue topaz gemstones in
Fish Out of Water
necklace shine nicely with the subdued blue sheen in the short and delicate
Gone Fishing
necklace. Fish Out of Water: $268.00 USD
Gone Fishing: $57.00 USD
•• s o u t h s e a s + a f t e r n o o n t e a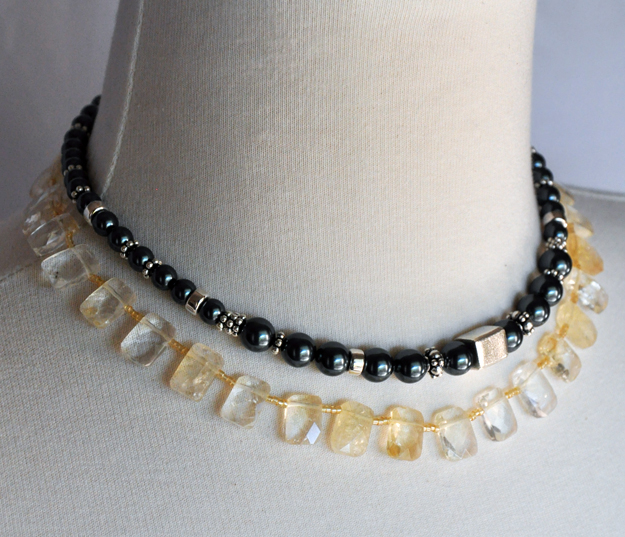 This pairing shows the strength of unlikely partners joining for an integrated look that couldn't be achieved with each alone.
South Seas
is a Swarovski glass pearl necklace with distinct Bali silver accents, and
Afternoon Tea
is a lightweight shimmering necklace of citrine and glass seedbeads; together they are a bold focal element for an outfit. South Seas: $61.00 USD
Afternoon Tea: on sale for $38.00 USD (originally $97.00 USD)
•• f o o l ' s g o l d + t i m e l e s s
Fool's Gold
mica and pyrite gemstone necklace and
Timeless
dyed coral necklace each stands well on its own as a classic style. Together they add shape and color for an unexpected but more pronouced focal element. Fool's Gold: $80.00 USD
Timeless: $80.00 USD