•• c h a m p a g n e
Although there are numerous sparkling wines, champagne is the bubbly that lightens our hearts during festivities and celebrations. But why restrict the joy of crisp, bubbly deliciousness to a handful of times a year? Brut (dry variety = less sugar) is marvelous with cheese and crackers, fish tacos, chicken salad - the list is endless. Good champagne has a nice balance - not cloyingly sweet, not sharply acidic - and it refreshes and clears the palette. With champagne, all things are possible! Five necklace pairs featured here contain at least one piece that is champagne-like: festive, sparkly and downright happy.
•• t r a n s p i r a t i o n + o r n a m e n t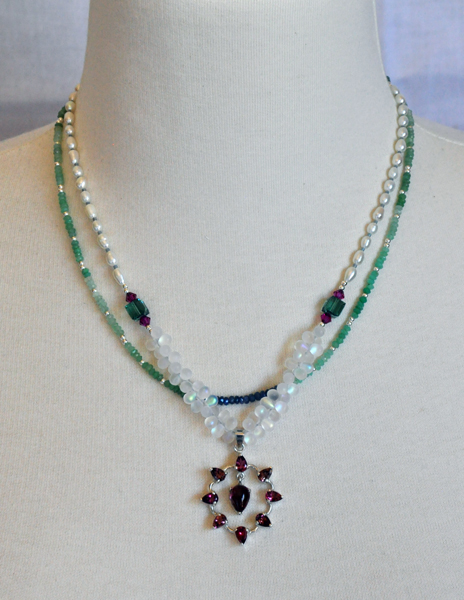 The pale green emerald found in the
Transpiration
necklace is unusual, and it makes the necklace a striking companion for a variety of pieces, including the
Ornament
pink tourmaline pendant necklace. Both necklaces feature jewel-bright colors of celebration and joy, and together they create a well-balanced exclaimation. Transpiration: $132.00 USD
Ornament: $136.00 USD
•• s w e e t b e r y l s + t o u r m a l i n e n o . 1 0 l e g u i n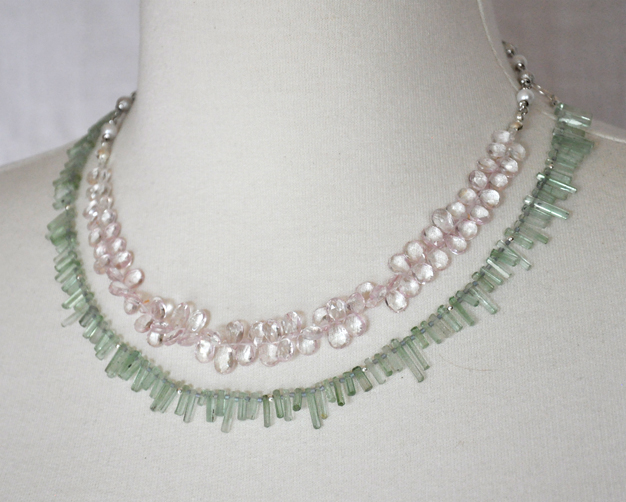 The faceted morganite gemstone strand from the
Sweet Beryls
set is pale pink in color like rose quartz but has greater hardness and clarity. (Morganite is a beryl like aquamarine and emerald.) The crystalline quality of tourmaline is evident in
Tourmaline No. 10 Le Guin
featuring raw pale green tourmaline top-drilled gemstones. Together the pastel colors pack a powerful punch of color and shine. Sweet Beryls morganite: $170.00 USD
Tourmaline No. 10 Le Guin: $174.00 USD
•• i r r e s i s t i b l e + i n v e s t m e n t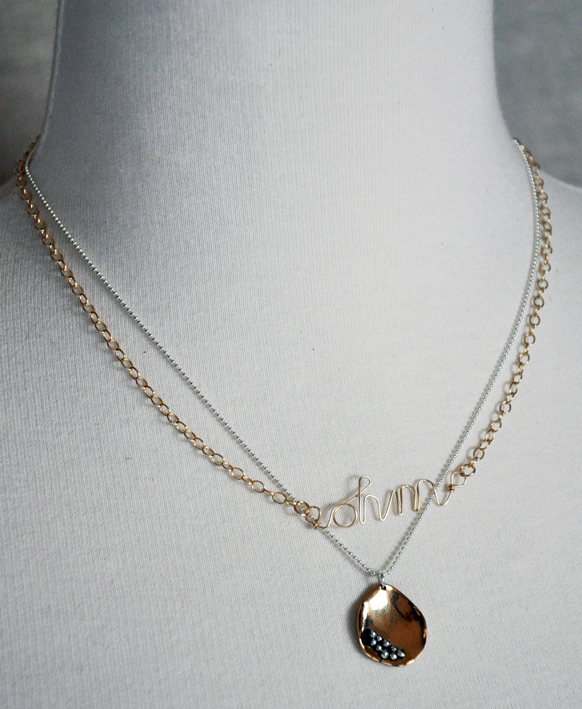 Irresistible
is an ohm-age to electronics, and it's offered in 14kt gold-fill (as in this necklace) or
sterling silver
.
Investment
features a petal shaped bronze pendant with sterling silver feature, strung on a sterling silver chain. Together these simple chain necklaces have terrific layered style, and they are fun to wear. Irresistible (gold-fill): $63.00
Investment: $35.00 USD
•• m i l k & h o n e y + s u n s h i n e
Milk &amp Honey
is a 35" single strand necklace of honey-hued spessartite garnet and lustrous freshwater pearls that can be doubled for a short necklace or wrapped multiple times as a cool wrap bracelet. The faceted fire opal gemstones in
Sunshine
capture colors and lustrous glow from gentle sunshine. Together these necklaces shine like a smile for a special occasion. Milk &amp Honey: $114.00 USD
Sunshine: $182.00 USD
•• s p r i n g # 2 + s u n s e t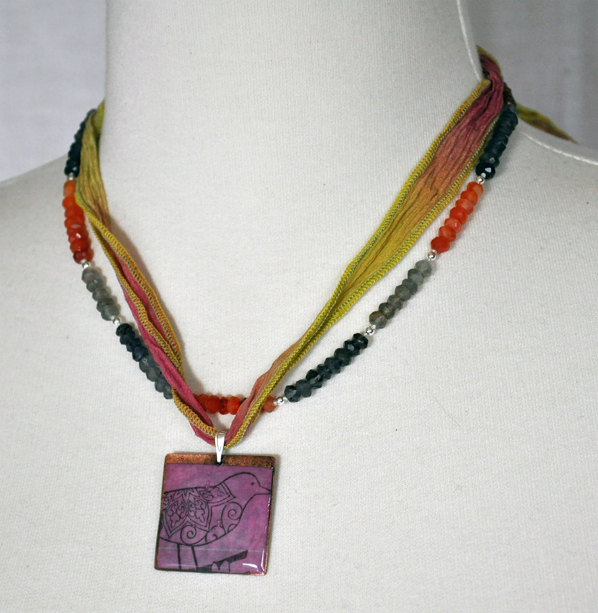 A sweet bird sings from colors of evening in this pairing with silk and gemstones. The
Spring #2
necklace is an antiqued copper pendant with a folk-art inspired bird, and the warm yellow-rose crinkled silk ribbon contrasts nicely with the warm and cool gemstones in the
Sunset
necklace. Together they are a sweet statement of evening. Spring #2: $52.00 USD
Sunset: $58.00 USD