•• z i n f a n d e l
Zinfandel is a bold, deep flavored wine with berry flavors and peppery spice that pairs well with grilled meats and tomato-based sauces. It tends to have more tannins and appears almost inky, the color is so saturated. Although the flavor is strong, good zinfandel is not overpowering or harsh; rather, it warms the mouth and fills the nose with rich wine smell. The necklace pairs featured here contain at least one piece that is zinfandel-like: bold and striking color and style that awaken the senses.
•• b r i l l i a n t + b l u e s k i e s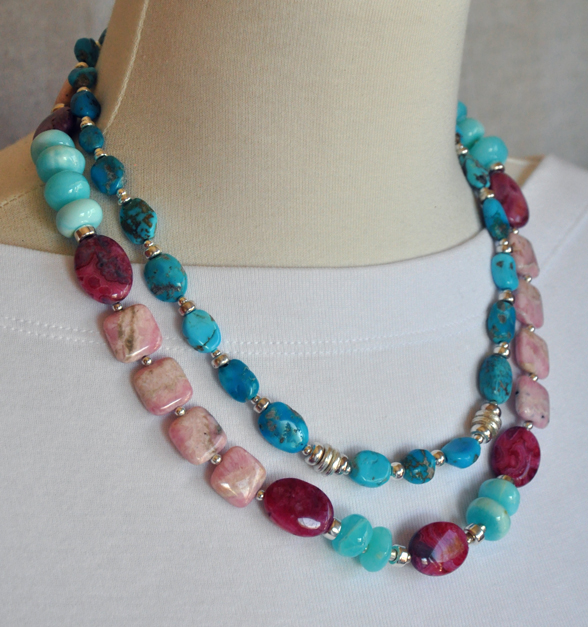 Brilliant Blue Skies may be one of the best ways to express what it's like to live in the Southwest: big bold saturated colors of bougainvilla and prickly pear under a huge blue sky. The
Brilliant
necklace is 20" and mixes lovely natural rhodochrosite and blue opal with an intensely dyed crazy lace agate, and it's paired with the intense blue of the 18"
Blue Skies
necklace showcasing Castle Dome mine turquoise from Arizona. Brilliant: $80.00 USD
Blue Skies: $141.00 USD
•• u n d e r s t a t e m e n t + r o u g h e r s t u f f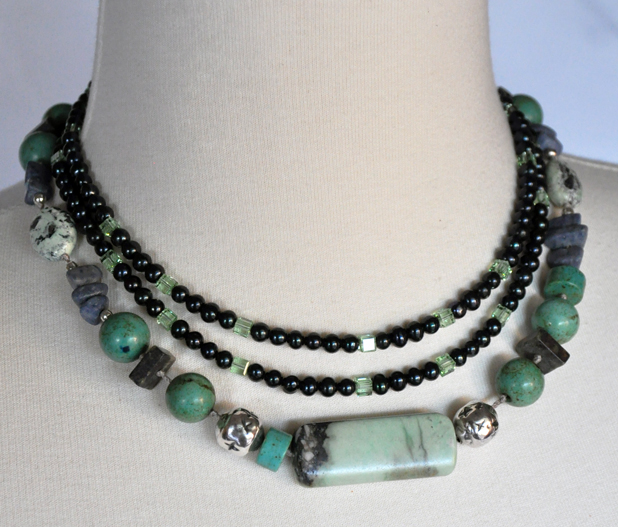 These two necklaces layer well; the chunky
Rougher Stuff
variscite necklace is just below the double pearl strands of the
Understatement
necklace. There's a similar mix of dark and light colors, but the different scale and pattern of the necklaces make a nice contrast. Understatement: on sale for $32.00 USD (originally $63.00 USD)
Rougher Stuff: on sale for $37.00 USD (originally $88.00 USD)
•• r e e f + s h a l l o w s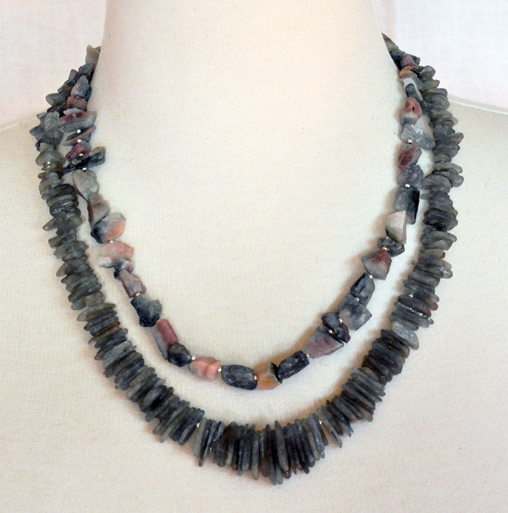 The 17"
Reef
necklace of rough watermelon tourmaline nuggets pairs seamlessly with the 21"
Shallows
blue-green kyanite long chip necklace. Watermelon tourmaline refers to the tourmaline stones with a pink center and ringed with green, and these vibrant colors are well-framed by the sea-green kyanite stones. Reef: $115.00 USD
Shallows: $99.00 USD
•• h e a v e n o n e a r t h + m o s s y o v e r h a n g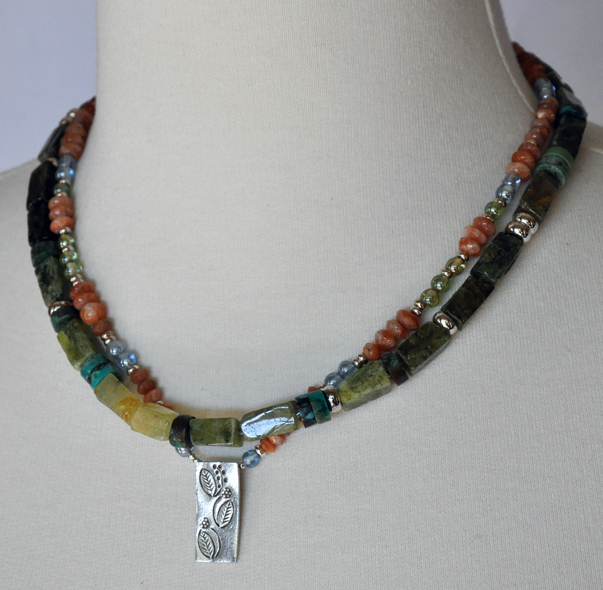 This pairing combines the colors of sky and sunlight with the earthy hues of damp moss and ground in shadow under thick boughs.
Heaven on Earth
glows with Oregon sunstone and lampwork glass, and
Mossy Overhang
curves nicely with unusual thick nuggets of grossular garnet. Heaven on Earth: on sale for $28.00 USD (originally $71.00 USD)
Mossy Overhang: $88.00 USD (includes bracelet)
•• t o o m a n y f r o g s + w i c k e d s t e p m o t h e r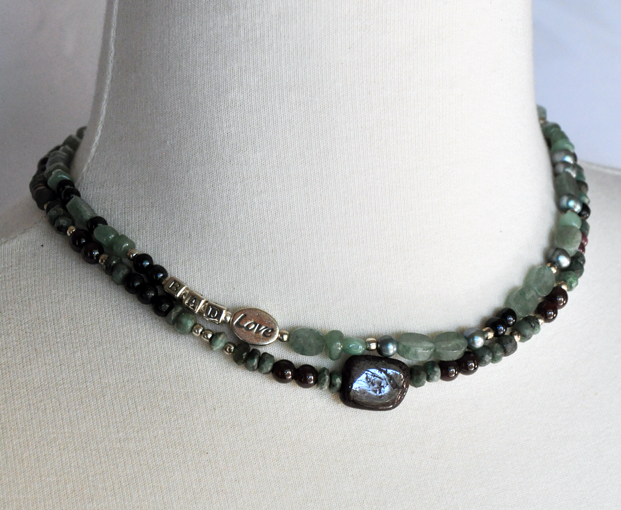 It's fitting that these fairy-tale inspired necklaces should complement each other;
Wicked Stepmother
features emerald and tourmaline nuggets in their more natural, raw state and
Too Many Frogs
features a sterling silver frog prince among green aventurine and a warning against bad love. Wicked Stepmother: $41.50 USD
Too Many Frogs: on sale for $33.00 USD (originally $61.00 USD)