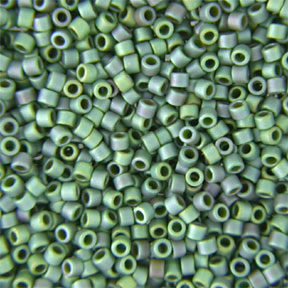 •• s e e d b e a d g l a s s
Seed beads and furnace beads are made in a similar way: heating a larger glass source, injecting air in the center, then pulling the hot glass into long, thin tubes. The difference is that seed beads are much smaller - with diameters of 2mm or less. The Czech Republic remains a strong producer of seed beads, but in the last couple decades, the Japanese Miyuki Shoji company and Toho company have emerged as strong producers as well. The Miyuki company makes the popular Delica cylindrical seedbead, shown in the figure. This shape of seedbead is more uniform and has a larger hole than seedbeads of similar size, making it an excellent candidate for bead weaving projects. The more uniform size means that it is an excellent spacer bead as well.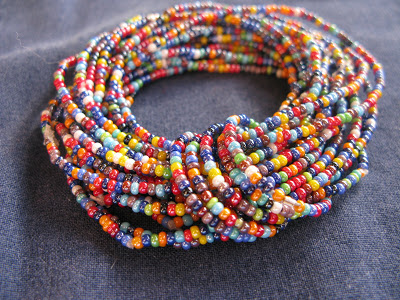 The Toho company makes the more traditional round seed beads, but both companies offer beads in a range of colors and sizes. Seed bead sizes are listed by aught-size, though there is significant variation from one manufacturer to the next for the same listed size. Aught-sizes are more commonly displayed as a number followed by a slash and 0: 15/0 is the smallest size and 6/0 is one of the largest sizes listed for seed beads. The most popular size in terms of colors and finishes available is 11/0, which are about 1.5mm in length. Beads may be uniform in color and transparent or opaque; color-lined beads include a thin color coating inside the bead that may show wear, and pearl, luster or AB coated beads have treatments applied to the outer surface that may also show wear.