•• s w a r o v s k i c r y s t a l
Historically, Swarovski crystal contains up to 24% lead oxide, though it is bound in the glass matrix and poses no risk unless ingested or inhaled. Despite the low risk, Swarovski adopted a lead-free crystal in 2012.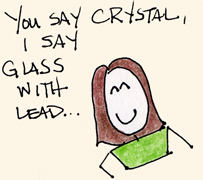 Swarovski crystal is created from a combination of natural minerals and quartz sand, fired and slowly cooled then precision cut in their factory in Austria. Each season they release new colors and styles that both reflect and drive trends from the world's top fashion houses, and their products are synonymous with outstanding quality and impeccable style. The number of available colors and styles of crystal components has increased dramatically over the past few years as Swarovski has moved into the world of mainstream fashion and accessories. The figure lists some of the more common colors.