• • 2 0 u n d e r 3 0
Whether it's holiday shopping or searching for a good birthday gift, I'm sympathetic to the shopper who would like to give personal and meaningful gifts but is running up against time. This page offers 20 jewelry items under $30 USD and the price includes free gift wrapping and shipping. Hooray! These items include interesting, well-crafted pendants or simple combinations of gemstones for an unusual gift of high quality materials and creativity. The item will be sent in a gift box with a brief identifying you as the sender. Hopefully there's a gift or two that prove useful for the next holiday or anyday.
See the page
Sub 60
for a collection of jewelry items under $60 USD. These include faceted semi-precious gemstones set in sterling silver with precious metal chains for an elegant look at a slightly higher price point.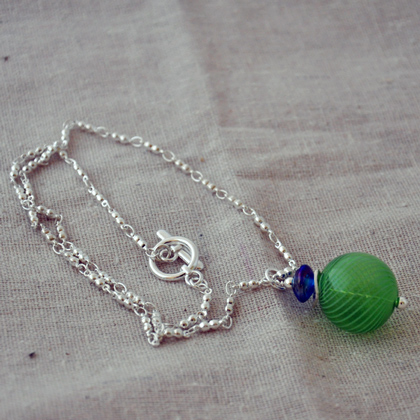 Inspire some holiday cheer with this shining 18" silver-plate brass link necklace featuring a large Murano handblown glass green round. Silver plated brass toggle clasp. Cost: $25.00 USD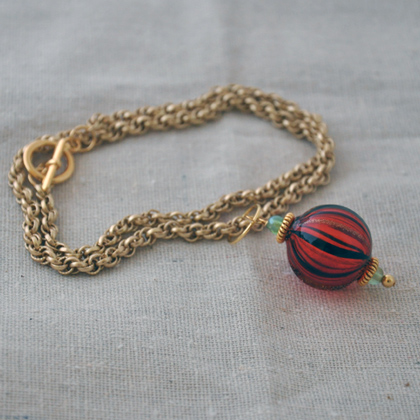 Holiday cheer continues with this golden 18" thick rope chain necklace with a large red Murano handblown glass orb, like a lovely ornament. Gold-plated brass toggle clasp. Cost: $25.00 USD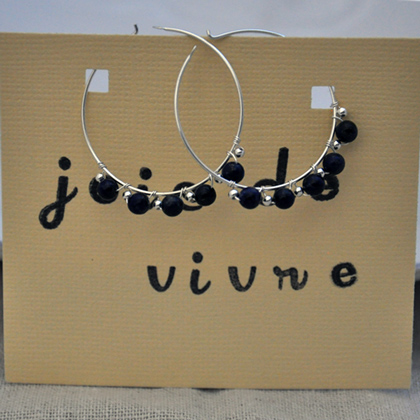 Deep blue lapis lazuli beads are wrapped around thin hoops of sterling silver and spaced with sterling silver beads in these 1" earrings. Cost: $25.00 USD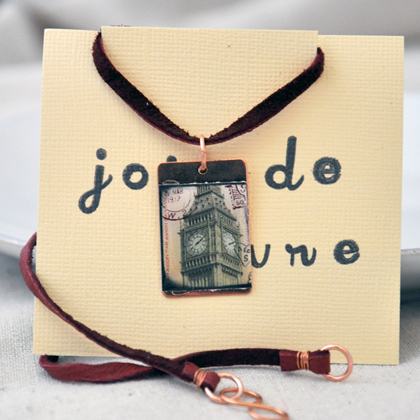 A vintage graphic of Big Ben, the famous clock in London, is the feature of this colored deer skin leather necklace with copper accents, including the pendant and solid copper hook and eye clasp. Cost: $25.00 USD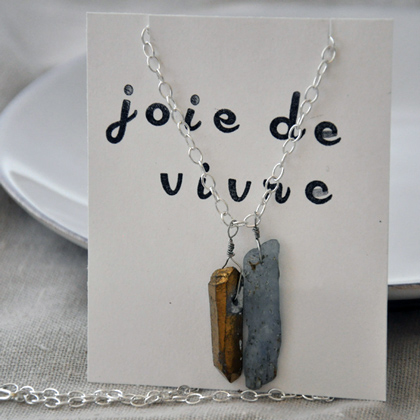 Natural, rough crystals of the stunning blue gemstone kyanite and gold-plated quartz are the features of this 18" sterling silver-fill chain necklace. Cost: $25.00 USD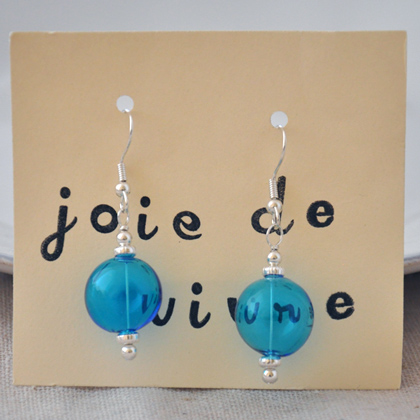 The handsome sky blue globes in these 1" earrings are handblown Murano glass. These lightweight beads hang from sterling silver earwires with plated silver beads. Cost: $25.00 USD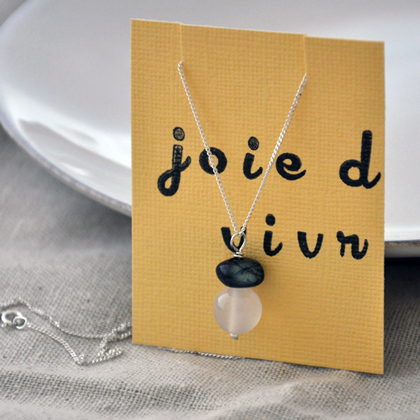 Who couldn't use an astromech droid to make the day go a little easier? This 16" sterling silver curb chain necklace features a charming milky quartz and labradorite "droid", ready to tackle (or at least share) life's mishaps. Spring ring clasp. Cost: $25.00 USD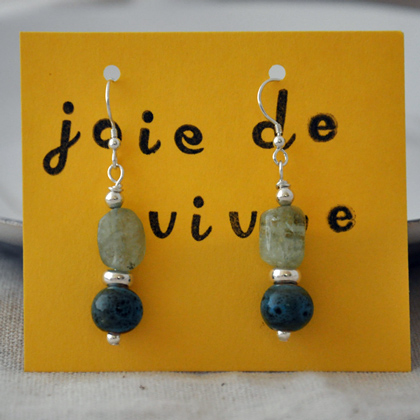 Sea green aquamarine gemstones combine with blue-green porcelain beads in these 1.5" drop earrings with sterling silver components and ear wires. Cost: $25.00 USD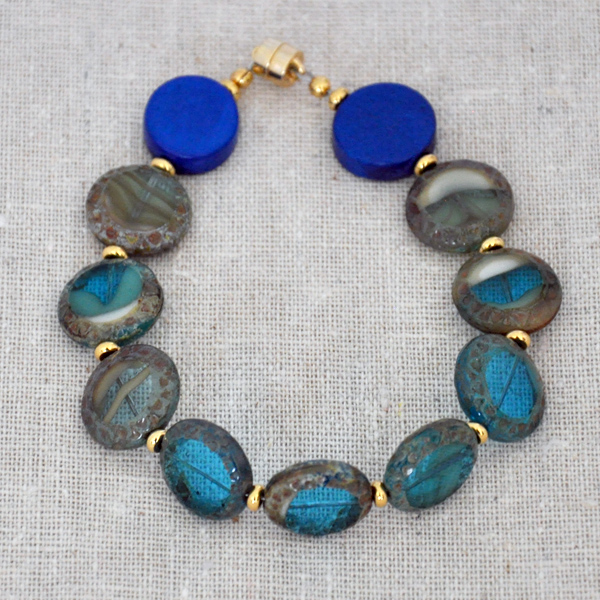 Luminous blue-green Czech beads hug the wrist with color in this 8" bracelet. The beads are spaced with solid brass and finish with deep blue colored wood beads and an easy to fasten (but strong) gold-plated brass magnetic clasp. Cost: $25.00 USD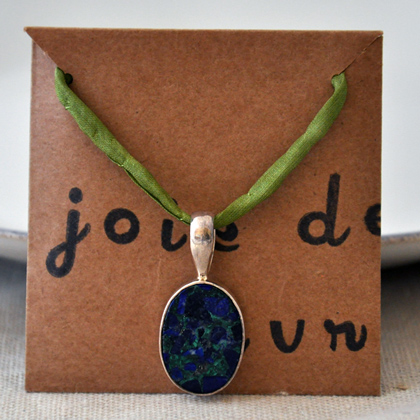 Azurite is a softer gemstone often found in arid copper-bearing areas along with malachite and copper. The gemstone is set in sterling silver, and the 1 1/2" pendant is strung from a 40" long 2mm silk cord that can be tied at a variety of lengths or wrapped as a bracelet. Cost: $25.00 USD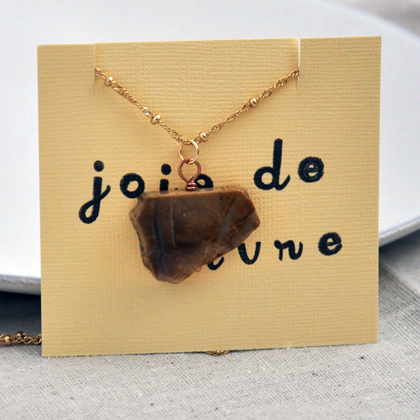 A slab of petrified wood -- fossilized remains of vegetation replaced by minerals like quartz -- is the star of this golden 18" necklace of gold-plated satellite chain that fastens with a small lobster claw clasp. Cost: $25.00 USD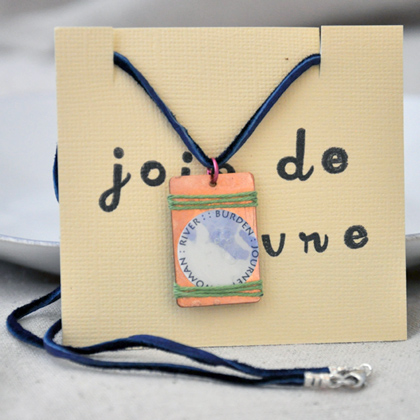 The focal point of this 17" soft, supple colored deer skin leather necklace is a copper rectangular pendant with an analogy referring to the Zen story, "Two Monks" in which carrying a woman across a river becomes a greater burden for one monk than another. Sterling silver clasp. Cost: $25.00 USD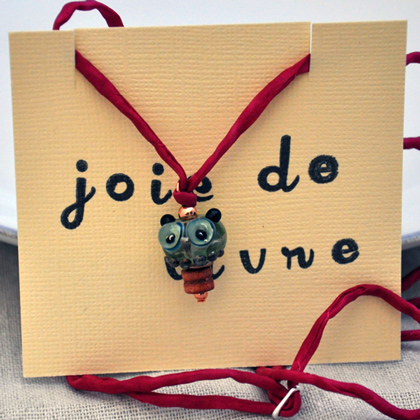 This bea-oo-tiful lampwork glass owl is handcrafted by Grace Ma, the talented lampworker of Grace Lampwork Beads. The owl rests atop wood and copper beads on this 42" bright magenta silk cord with a sterling silver link to adjust length. Cost: $25.00 USD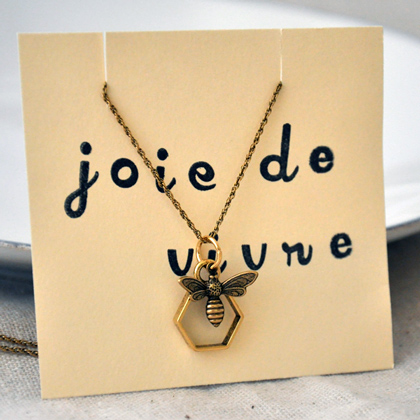 Warm, golden antiqued brass is like honey in homage to the marvelous bee in this 18" brass rope chain necklace with a honeycomb-shaped hexagon home for the vintage style bee charm. Spring ring clasp. Cost: $25.00 USD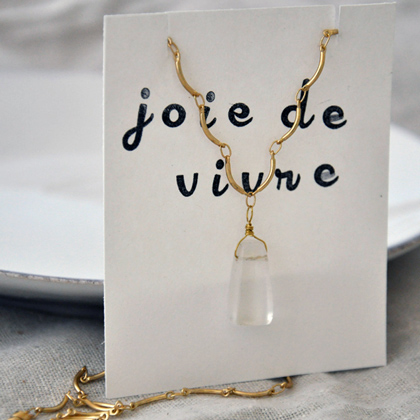 A single snaggletooth shaped glass drop is the feature in this 18" matte gold-plate link necklace with gold-fill magnetic clasp for easy wear. Cost: $25.00 USD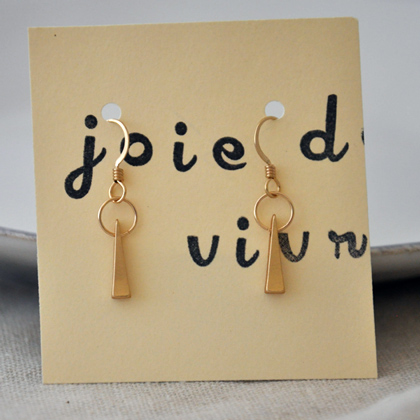 These 1" earrings with gold-plate spikes and 14kt gold-fill hook earwires are simple, lightweight and delightfully angular. Cost: $25.00 USD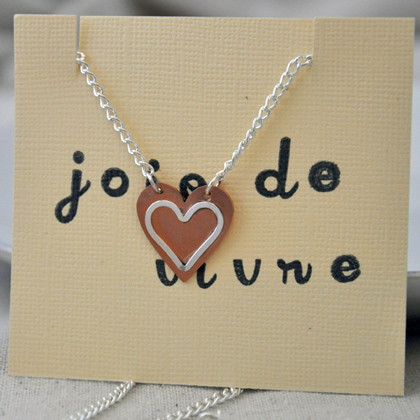 Share a little love. A solid copper heart with silver accent heart anchors this 19" necklace of thick silver-plated brass curb chain and fastens with a magnetic tab. Cost: $25.00 USD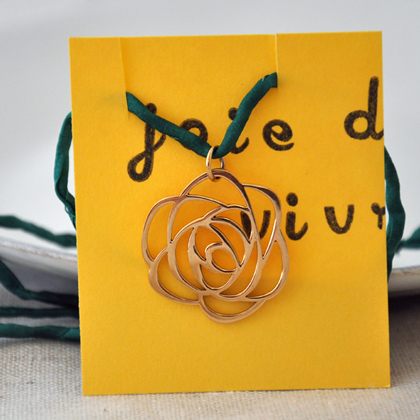 A gleaming, open bronze flower hangs from deep green silk cord in this adjustable length 40" necklace. A vermiel matte link enables length adjustment to wear the beautiful rose as you wish. Cost: $25.00 USD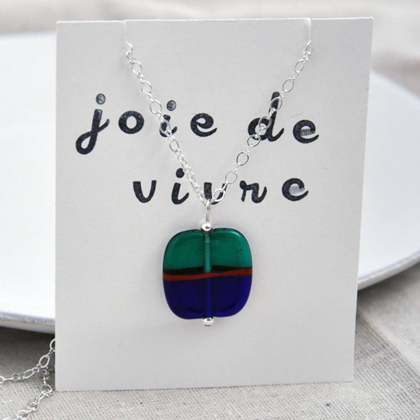 This colorful 1" pressed glass pendant hangs from an 18" open figure eight sterling silver-fill chain. Cost: $25.00 USD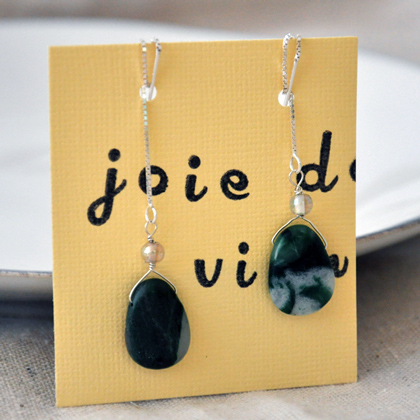 Triangular shaped green aventurine gemstones hang from long, delicate sterling silver box chain in these 2" earthread earrings. Cost: $25.00 USD
The sterling silver and 14kt gold-fill chains are 16" or 18" in length with spring ring clasps. As a reminder: sterling silver is 92.5% silver with alloy metals to help resist tarnishing, and 14kt gold-fill is 20% gold per weight, which means a much thicker layer of 14kt gold over the base metal than gold-plating. All the gemstone, shell and pearl pendants are set in sterling silver, and the metal pendants are either sterling silver, bronze (an alloy of copper and tin), 14kt gold-fill, vermeil (22kt gold plating over sterling silver) or lead-free pewter. The gemstones are natural materials - no imitation or man-made items - though some like the red coral may be dyed. The silk ribbons and cords are 100% hand-dyed silk. The leather laces are natural or dyed deerskin leather, a tough but pliable water-resistant leather. Earwires are made from sterling silver or 14kt gold-fill wire.